How Much PSI To Clean Concrete?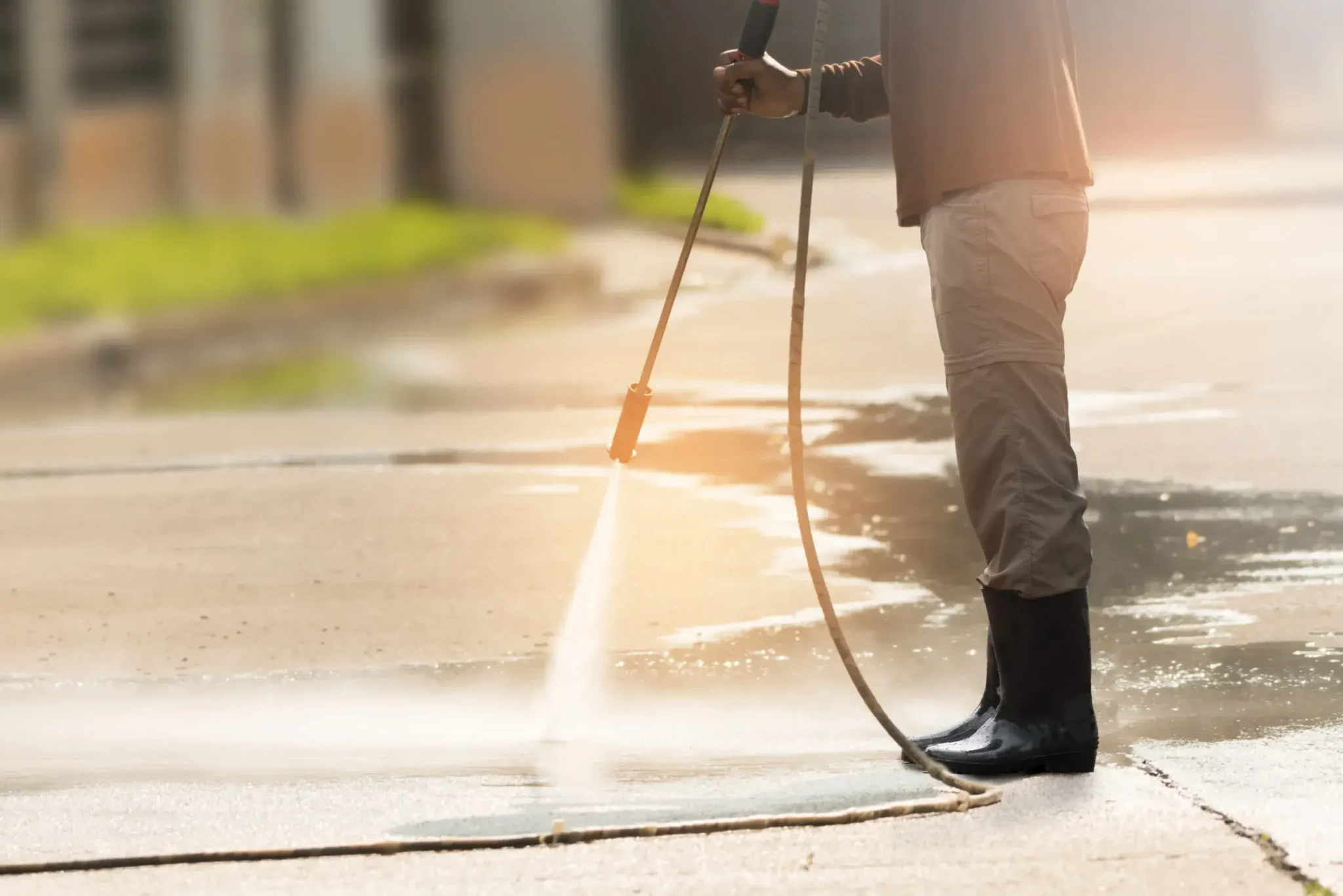 Most homes and businesses have concrete surfaces that require regular cleanings. Without cleaning concrete properly, it will become stained and wear out more quickly. The trouble is that cleaning concrete can be difficult to do. The best tool for the job is a pressure washer, but not all pressure washers have the strength to clean concrete efficiently. This is why it's important to consider how much PSI to clean concrete properly.
We work with pressure washers daily, and our technicians always use equipment that produces more than 3,000 PSI. These gas-powered units have enough power to fully clean concrete and remove grease, staining, and other issues. A 3,000 PSI pressure washer is the way to go if you want to clean concrete well.
What PSI Pressure Washer to Clean Concrete?
If you're interested in cleaning concrete surfaces regularly, you'll need a pressure washer with enough power to do the job well. If you're wondering how much PSI to clean concrete well, the answer is approximately 3,000 PSI. That's the minimum power level we recommend when selecting a tool meant for doing work on concrete. You can get decent results with less power than that, but you'll have to work harder for them.
Can a 1500 PSI Pressure Washer Clean Concrete?
While it is possible to clean concrete with a 1,500 PSI pressure washer, it is very difficult to do well. To improve your chances of obtaining a good clean, pre-treat the surface with a bleach solution, or utilize detergent made for your pressure washer before giving the concrete a thorough rinse. Cleaning agents will help do some of the work that you're missing because of the lack of power from your pressure washer.
Is 2000 PSI Enough to Clean Concrete?
2,000 PSI is enough to power to effectively clean concrete surfaces. You will have to use an aggressive nozzle, keep the tip closer to the surface and spend more time than you would when using a more powerful product, but you can obtain good results with a bit of hard work.
Best Pressure Washer for Cleaning Concrete
When shopping for the ultimate pressure washer for concrete, power, water flow rate and reliability are all important considerations. The optimal unit will also be the best pressure washer for home use. Select a gas-powered pressure washer equipped with a triplex water pump and either a Honda or Briggs and Stratton engine. Choose a pressure washer that offers more than 3,000 PSI of power and that maintains at least 3.0 GPM during use. If you meet all those different elements, you'll have an effective pressure washer for concrete, siding, fencing, decks, and much more.
A professional pressure washing team relies heavily on well-made equipment to get a good clean. Without the right equipment, the team wouldn't get pro-level results. This is why it pays to hire experts to clean your property instead of trying to do it yourself.
How S&K Pressure Washing Services Stand Out
S&K Pressure Washing is a leader in the cleaning industry because our team uses industrial-grade pressure washers operated by professionals. Each team member has an assortment of nozzles, attachments, and cleaning agents, and they understand the proper technique to attain excellent cleaning results. Call us today and ask for a quote for your next cleaning project.
Concrete Pressure Washer FAQs
What is the right bleach-to-water ratio for cleaning concrete?
Mix in ¾ cup of liquid bleach for every gallon of water you use to clean concrete with. You can apply this solution with a mop for an effective cleaning.
Should you use chlorine vs. bleach for pressure washing?
You should avoid both chlorine and bleach when pressure washing. Both of these substances will corrode the seals inside your pressure washer if you pump them through the system. You can apply a bleach solution to concrete and other masonry surfaces using a mop and then rinse them off using a pressure washer with good results.
How Much PSI to clean concrete?
The ideal amount of pressure is 3,000 PSI or greater for cleaning concrete. You can get a decent clean with as little as 1,500 PSI available, but the process will take significantly longer.
Is 2000 PSI good for a pressure washer?
No, a 2,000 PSI pressure washer is a hobby-level unit that's only suitable for lightweight use at home. The most robust pressure washers all deliver 3,000 PSI of pressure output or more.
Is 2000 PSI enough to pressure wash concrete?
Yes, you can clean concrete using a 2,000 PSI pressure washer. With 2,000 PSI of power, you will have to spend more time cleaning the concrete for a complete clean, but you can still get optimal results.
Is a 3000 PSI pressure washer good for concrete?
Yes, a 3,000 PSI pressure washer is ideal for cleaning concrete. It has enough power to efficiently clean concrete, driveways, patios, and other surfaces. Attach a surface cleaner for even better results.
Should you power wash your house in spring or fall?
Spring is the best time to power wash your home if you only want to wash your home's exterior once a year. We recommend washing your home each spring and fall for the best results.
Ready to Get Started?
S&K is ready to get to work for you! A member of our team is available to discuss your needs and deliver a timely estimate of services.
Contact Us